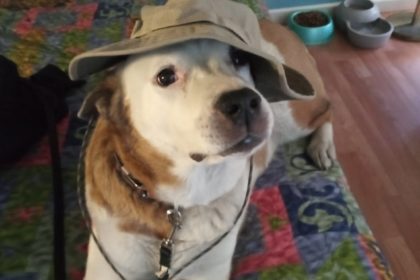 Coming to the Rescue
April 3, 2021
There are times in life that seem like the end of the road. Trapped in that place of sheer terror and ugly resolve. This past week would define that horrible place that I found myself in.
I am a senior citizen who lives on a fixed income with the two most beautiful 'emotional support' dogs.  Or as I refer to my furry friends, The Family. First there is Lil Allie. Part Chihuahua and a mix of other breeds. Sixteen years old and as spunky as a teenager on spring break. Then there is Hope. Part Pit Bull and Australian Queens Land Hound. Big and Beautiful, tan and white.
Hope is most assuredly the showstopper. The first two months of her beautiful life was spent running with Coyotes. So to say Hope has a wild side is a giant understatement. Calm, laid back and as cool as a midnight desert breeze. Digging up gopher and rabbit holes on the constant patrol for snack time. As loyal as a Marine Sargent always looking out for me and her little sister Allie.
Then it happened. Hope stopped eating. She ingested only water and had increased urination tenfold. Never urinating in the house, always waiting for me at the door at all hours to eliminate. Then lethargic behavior to the point of having an awfully hard time walking. Then began the intense shaking.
I'll interject at this time that Hope and Allie came into my life close to two years ago when one morning at 8 am a former neighbor called me to say that he and his wife could no longer walk them due to serious medical conditions and that they were going to have to put these beautiful Dog Babies to sleep. Not on my watch. They surely had a new home. I will also interject that in my entire close to seventy years occupying this dimension I have never experienced this type of love and loyalty that I do from Hope and Allie. I am prompted to take them wherever I go for the fact if I don't they will howl and bark at the front door until I return home. Talk about love.
So when Hope's condition was worsening by the hour my intense resolve grew astronomically. Up all night holding Hope. Tuesday morning I brought the pup to a veterinarian. They told me that Hope needed surgery immediately. Her diagnosis was Pyometra. A condition that can happen to older female dogs that are not spayed (now I know, and yes Lil Allie is spayed). The doctor told me she needed the surgery by the very next day or she would surely perish. That as well, it might be too late to save Hope. The cost, $1709.00.
Back home we went. I began my search into agencies that could help with the cost. In stepped NKPC and PACC. They offered financial assistance that covered some of the cost.  As for myself, I had evolved into a torn shattered wreck. Sleep was an alien proposition.  I stayed in close contact by phone with the most beautiful soul, individual walking this toxic rock, Ms. Marcie with NKPC.
By that next day, Wednesday, Hope could barely walk. Which blew my mind for the fact that walking Hope is what I refer to as the drag and the pull. She could only make it outdoors to this grassy patch where she just laid there shaking, panting loud and very hard.
Then it happened. Ms. Marcie called me. Told me to get Hope to Santa Cruz Veterinary Clinic immediately. That they would perform the surgery with the financial contributions from NKPC and PACC. Sure enough. Without one scintilla of a nano question NKPC and PACC and Santa Cruz had Hope's and my back. I will also state that Ms. Marcie stayed up on it in regard to checking in with me regarding Hope's recovery. Hope was in the hospital 2 nights after surgery. Her clinic  service was worth more than thousands – it was priceless.
I picked Hope up late Friday afternoon from Santa Cruz Veterinary Clinic. A very nice lady there expressed to me that by all accounts Hope should have passed from this dimension two days prior. That she, Hope, was one tough girl and her love for me and my love for her surely played a giant role in the scenario of Hope making it through to the other side. As well – throw NKPC and PACC into the mix of sustaining Hope's life.
Phewwww. Talk about dodging a bullet that would have surely ended Hope's life and leaving me on the side of the desert road tangled up in the cactus brush of complete devastation.
Without one nano spec of speculation, NKPC and PACC and Santa Cruz saved Hope's life. When it comes to saying what you do and doing what you say, these organizations are most definitely the poster children in this regard.
There is not enough thanks, gratitude and love in the known two trillion plus galaxies to express my very deep heart and soul felt appreciation for NKPC and PACC and Santa Cruz.  May Lord God Almighty Mack Daddy Creator Bless these three literal live saving organizations.  I know He does.
Thanks guys.
No Kill Pima County appreciates this loving testimonial from Hope's father. If you'd like to be a part of our community of caring, please contribute here. And we thank YOU!