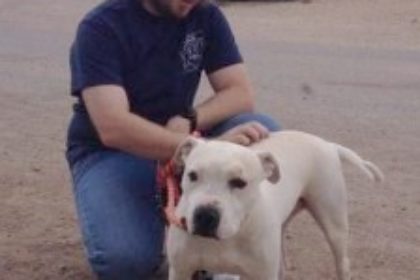 We are pleased to announce Justin Pope has joined the NKPC Board of Directors
We asked Justin to introduce himself:
I am married with six kids and currently reside with four dogs, three cats, and three guinea pigs. I'm employed as a Registered Nurse and I've identified as a computer nerd since I was very young, but I am a relative newcomer to animal welfare. While I've always enjoyed the companionship of animals, it has only recently become a focus in my life.
A fortunate coincidence almost four years ago – on my birthday, no less – began a journey of fostering with a local rescue, and we've welcomed 118 dogs, cats, kittens, and puppies into our household since. Through all the ups and downs, my life has been impacted by each and every one, but I'm also deeply touched by the ones our community hasn't been able to save. We have seen many of the pillars of the No Kill Equation implemented here in Tucson, but there is still more work to do – especially when it comes to medical and behavioral rehabilitation and proactively reuniting lost pets with their families. That's why organizations like NKPC are so important in developing and supporting new programs that directly impact the lives of the animals here in southern Arizona, and I'm proud to be able to play a role in that lifesaving mission.
I dream of a world where shelters are a safe haven of last resort, preventable illnesses are a thing of the past, everyone in the community has access to timely care regardless of their circumstances, and ending a life for financial reasons is never a consideration. By going back to school, volunteering, and actively advocating for the voiceless, I'm working to make these goals a reality.
Thank you, Justin for your commitment to animals and for lending your skills specifically to NKPC and our mission. 
Related