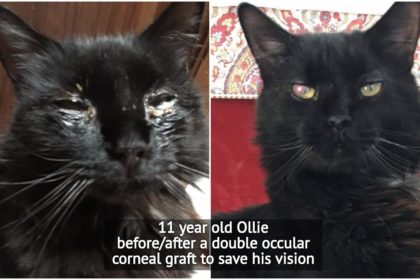 In continuing efforts to become a No Kill Community and truly save the savable by responding to related needs, the Each One Medical Fund was developed by No Kill Pima County to provide veterinary support outside of the shelter for the animals of the Pima Animal Care Center (PACC). The fund aims to help fill a gap by providing assistance for individual animals on a case by case basis to be used for additional diagnostic testing, more complex surgical procedures, Board Certified specialty consults, second opinions, shortening wait times for needed medical care bringing relief and making an animal adoption ready and ultimately, to save lives. In addition to financial support for medical care, appointments, record transfer and animal and sample transport are also coordinated by No Kill Pima County.
From August to December 2016, sixteen animals have received medical care through the Each One Medical Fund (** 11/2017 update below). Of seven dogs, one received a dermatological consult with a specialist and 6 were provided emergency hospitalization for Parvovirus treatment. In the case of Parvo, these dogs would have been put down as they were too ill for PACC's Foster Program and PACC does not currently treat Parvo in the shelter. Of these 6, five survived. It took Bailey, a beautiful year and a half old German Shepherd, several days of hospitalization before she raised her head and drank water, but what a comeback! Seeing these dogs go from weak and struggling to vibrant survivors makes the average cost of $278.60 seem small. A specialty consult is $90-$150.
Two of nine cats, with much, much thanks to generous donors responding to urgent pleas, were able to receive surgical procedures with specialists. 11 year old Ollie had corneal grafts to save BOTH of his severely ulcerated eyes from rupturing, likely from a herpes flare brought on by the stresses of the shelter. This procedure performed by an ophthalmologist at the Southern Arizona Veterinary Specialty Center prevented Ollie from becoming blind and we are happy to report he has been adopted by a PACC volunteer. Meadow, who had hind end trauma resulting in a prolapsed rectum (with the cause determined by an outside vet after finding a poorly healed broken femur), was given a 24 hour deadline after attempts to repair her condition at PACC were not successful. She was saved when more than 50 donors contributed nearly $3000 to the online fundraising effort for specialty care and emergency surgery.
Among other felines benefiting from the Each One Medical Fund, a senior Tortie named OK Cat in PACC Foster got an outside second opinion and it was determined that her behaviors were not related to anything treatable medically, but rather she was having bouts of dementia due to her age. Some other expenditures through the fund have included provision of a prescription diet for a cat in PACC foster requiring a feeding tube and treatment for a painful mouth condition known as stomatitis that requires the removal of all teeth. This procedure, a full or whole mouth extraction currently costs $450. With a longstanding vacancy of a veterinary position at PACC, cats in need of this labor intensive procedure can experience long waits for treatment. They can decline, struggle to eat, and are more vulnerable to contracting shelter related illnesses. They too can even go on a deadline.
In strong partnership with an active, compassionate and devoted community, PACC has made tremendous strides forward in a short span of time, particularly on the medical care front, however, there will continue to be challenges and limitations on what can and will be done by the shelter. Tax deductible contributions to No Kill Pima County's Each One Medical Fund can be made here: by selecting Each One Medical Fund.
**UPDATE: As of November, 2017 Thirty-two (32) shelter pets have benefited from Each One Medical Funds.