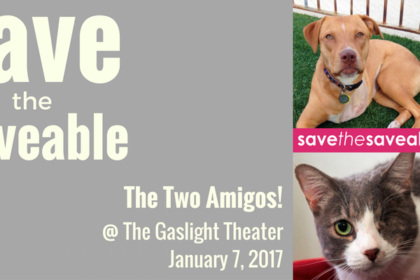 Savethesaveable.com, a campaign of No Kill Pima County, hosts "The Two Amigos" at The Gaslight Theater on January 7, 2017.  Joins us for a family-friendly evening of entertainment and support our marketing campaign to bring attention to the most needy cats and dogs at Pima Animal Care Center.  The mature pets, those with medical or behavioral issues and others who have been at the shelter too long need our support to have a happy ending. There IS a family for each of these pets- help us inform the public.  The website savethesaveable.com features animals at risk in the county shelter and explains conditions that some may have. Funds raised promote the Saveable campaign through billboards, print, television, radio, etc. Please help us get the word out by viewing the available pets on our website. 
THE SHOW
Theater tickets are $22, perfect for holiday gifts! If you have never been to the Gaslight Theater, it's a Tucson treasure you should see. TripAdvisor ranked Gaslight Theater #7 of 271 things to do in Tucson. You know you want to do it!
Shows are musical comedies and fun for the whole family.  The Two Amigos! will not disappoint!
Drinks, snacks and dinner are available for purchase inside the theater (sales are not part of the fundraiser).
Doors open at 8:15pm for General Admission seating. Performance starts at 8:30 PM. Organizers will be there at 7:45pm in the parking lot selling raffle tickets before the event. Come early to buy more raffle tickets and get the best choice of seats!
THE RAFFLE
Raffle tickets for VERY special prizes can be purchased in advance or at the door. You will place your ticket(s) with the prizes you hope to win.  All prizes are listed at the event/sales page  and include resort/spa stays, training for canines, pet sitting, salon services, golf bags, recreational package for canines, cat tree, one year of oil changes, dental exam with xrays OR teeth whitening, artwork, jewelry, skin care, cage free dog boarding and more! 
Please Note: If you purchase raffle tickets online, please print your receipt and bring it to the event. You will redeem your online receipt for raffle tickets that will go into the drawing for prizes. YOU don't need to be present to win but someone representing you must bring your receipt for the tickets to be entered in the raffle.
If you'd like to help but don't want to attend or participate in the raffle- you can

make a donation to the campaign

.
Thank you for your support. We hope you will be able to join us on January 7 at The Gaslight Theater for The Two Amigos!