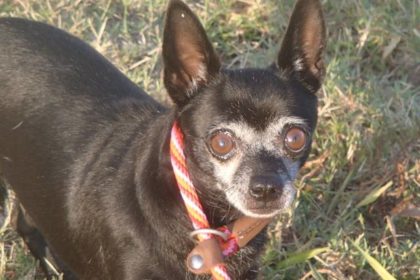 Grandma is old, around 71. She doesn't walk so well anymore. She says it's because of her arthritis. One of her eyes is runny and she can't hear too well either. She used to play with me a lot but now she rather snore and take too many naps.
What good is she?
I want to take grandma to some place where they just give her a shot and she will go away forever. I want a new grandma who has more energy and will play with me.
You wouldn't do this to your grandma, why would you do it to your dog or cat?
Senior dogs (and cats) come to Pima Animal Care Center (PACC) for many reasons – some can't be helped like their adopters die/become ill or move into venues that don't allow pets or have weight restrictions. Some people for one reason or another can no longer afford their pets or their pet's needs. Worst of all, some people want a more active pet even after their aging pet has given them a near lifetime of love and loyalty.  It's stressful for a senior cat or dog who has lived in a home all of his or her life to be left at the shelter where they have a tendency to deteriorate quickly.
November is Adopt-a-Senior-Pet Month. It's a nationwide movement this month to bring awareness and encouragement to the joys of adopting a senior pet. In Tucson, 12 months a year, the Save the Saveable campaign advocates senior pet adoptions.
It's simple. Here are a few reasons to adopt a senior dog and cat:
Usually housebroken or knows his or her way around a litter box
Often has good house manners
More mellow than a puppy or kitten
Perfect companions for people who are retired or can't keep up with a young one
Likes to spend time just being loved and giving love
So grateful
It's a mitzvah (a good deed worth doing that gives so much back)
By Karyn Zoldan, dog person, specializing in pampering one senior dog at a time at A Tucson Tail for in-home boarding (http://tinyurl.com/a-tucson-tail ).
Find more information about Galileo (ID #A536945 ) and Tuti (ID #A537381) and the other mature animals currently at PACC by going to the Mature Cat Album and the Mature Dog Album on savethesaveable.com and clicking on their picture.