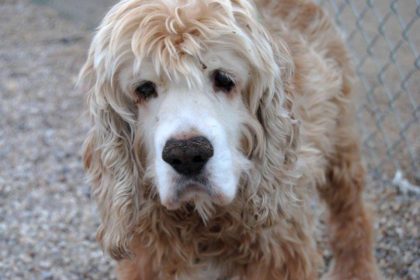 Planting a tree on earth day is a beautiful pledge to help fill the cracks in our ecosystem.
What about the remaining cracks within our shelter system?
"Fell through the cracks"
How can we work together to ensure the cracks are filled at PACC to make sure more dogs like Goofy and the many, many cats at risk don't fall through those cracks?
As we celebrate earth day, whether planting a tree, turn off the light switches, unplug electrical's and do just that little bit more, we ask that you take just a moment and think of Goofy and the many cats and dogs like him that fall through the cracks and pledge today to do one thing more for our shelter animals.
"One" thing, be it big or small – we all know what a difference just one small thing can make. Today, pledge to foster one, walk one, volunteer for one advocate for one, sponsor one, donate $1…or $101... (any donations on earth day will be 100% allocated to our upcoming special needs campaigns and foster/rescue program)…or, if you can't do anything else, you can always help by sharing one .  We have been posting many urgent and special needs, advocate and support one.
Consider joining our special needs group (in person or afar), or commit to taking a bottle feeding class (ask us how) and help one litter out – even just once.
Celebrate earth day today…and as you do, give a thought to Goofy and all those that have "fallen through the cracks" before him and all those that it's not too late for. We can't think of a better gift to Mother Earth then the gift of life.
Will you pledge to do one more thing today, no matter how small? We really want to hear so please tell us what you can do for one.
In memory of Goofy – put down April 2015
Goofy's Story
Goofy A514462, found himself alone when his owner died and he was turned into PACC on March 24th.
Even though the legal representative for the family brought him in and he could have been made available to the rescue community, but Goofy fell through the cracks and he sat for 10 days.
Losing his owner and finding himself at PACC is bad enough, but Goofy was also blind.
He finally was added to the rescue list on 4/6. The following day a volunteer went and got him out for a picture, he was very happy to get out as he was now going on day number 22 of being in the tent. Even though Goofy was blind, and also a senior, he never had SNA (Special Needs Adoption) written on his card. He also was noted as having severe chronic KCS, and dental on the rescue list, writing this on his card fell through the cracks and he stayed in the tent with very little attention or outside time. A rescue group PIF was supposed to be coming for which fell through but volunteers were told he had an adopter coming Thursday, April 16th.and the vet would neuter Wed, he remained in the tent.
The adopters were informed that he had serious heart problems, a large likely cancerous tumor and a huge laundry list of items. They were requiring him to go straight to a cardiologist for EKG but at the same time were recommending to be put down. The potential adopter had no financial ability so she denied.
Sometime shortly after this he was euthanized because he was truly suffering and had "no other options". 31 days after his arrival.
While it's agree that if an animal is truly suffering and there are no options the animal should be humanely euthanized, if this is the case, then Goofy suffered for over a month. However, Goofy was happy to see people and to get out those very few times he did and he was accepting and enjoying the milk bones volunteers gave him and enjoyed being petted. There was not a rush to get this dog into the PACC community, he fell through the cracks, there was no rush to follow through on the rescue, to have him see a vet, he fell through the cracks. But there was a sudden rush to put this dog down without offering him to anyone else or sending out an urgent plea after the adopter denied because there was no other options.
While the inclination maybe to get angry at PACC, that is not the solution. PACC does acknowledge that he slipped through more cracks than any dog ever should, and every time they thought they'd landed on a solution for him, something fell through and they started from square one. All involved are frustrated and disheartened by these outcome and PACC will use  his case as an opportunity to grow and learn how to better handle these cases in the future including continuing to work on communication with vet and the rescue community.
While this in no way makes what happened to Goofy acceptable, we must focus on where and how those gaps can be filled so outcomes for dogs like Goofy and the many cats that have fallen through the cracks is no longer occurring. Discussions are taking place, a checklist tool is in development to help support a thorough process and so each dog and cat can get an opportunity, but we need you to join us in this mission. If you would like to help, please message us or contact us at admin@www.nokillpimacounty.org