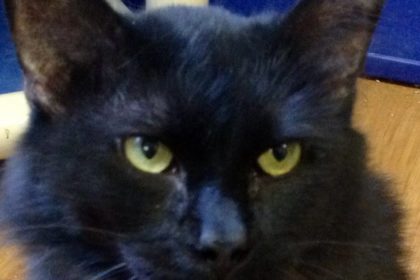 "DRAKE"
By Jessica Shuman
Posted 2/15/15
No Kill is a model and a movement, but above all, No kill is a commitment. Emerging less than two decades ago, No Kill is young and while the concept has remained the same, its definition has blurred, benchmarks are evolving and it may be confusing even for those striving or claiming to achieve it.
The movement began as and remains a cry to end the needless and senseless killing of companion animals in open admission shelters, (ones that turn no animal away). But beyond that, at the heart of No Kill, is the idea of "saving the savable"–that animals' lives should only be brought to an end through a true euthanasia. With euthanasia defined as the merciful ending of life for untreatable suffering, the movement expanded on the dictionary definition in regard to sheltering animals to include ending life as a last resort for "un-rehabilitatable" dangerous animals that pose a public threat.
But why am I qualifying "saving the savable" and "unrehabilitatable" in quotes? Not because of the broad range of belief and interpretation in identifying which animals fall inside and out, but because of the opportunities even shelters with the highest save rates must continue to seek and create so that each and every non suffering animal is afforded a lifesaving option. When we look at how shelters, animal control facilities and rescue organizations identify which animals are "adoptable" we see how different their ideas are from one another's and our own. Until just a couple of years ago, the Pima Animal Care Center claimed to have not taken the life of an "adoptable" animal since 2002. This is because until recently, animals above a certain age, ones who were lactating, those with respiratory infections etc. were not considered "adoptable". Our community has come very far in an accelerated time and while we are saving more lives than ever before we need to continue to stretch, then stretch again and then stretch some more.
The No Kill Model, sometimes referred to as the No Kill equation and comprising of 11 elements, was introduced as a proven effective model for open admission facilities that when comprehensively implemented would result in a minimum save or live release rate of 90%. Yet, when the No Kill movement first started, no one knew what percentage of shelter animals could actually be saved. Animals were destroyed for "space" and because of the notion that there are just too many animals and not enough homes. Not only has this been disproven and there is a cultural shift from the idea of "control" to "care", in the short span of the movement much has and will continue to advance including our knowledge and understanding of behavior, shelter medicine and the treatment and prevention of disease, strategies for marketing shelter and rescue animals to the public etc. With this in mind, Nathan Winograd of the No Kill Advocacy Center, who first set forth 90% as a benchmark, now believes that 95-98% to be a more current reflection.
To date more than 300 communities, including over 500 cities and towns, have achieved at least a 90% save rate and call themselves "No Kill". This is cause to rejoice, however, if a shelter achieves even a 99% live release rate and they take the life of one healthy feral cat, an animal with mange or valley fever, or one that tests positive for feline leukemia they are not truly No Kill. What about an animal with a broken jaw requiring costly surgery? And those with Kidney Disease? What about hospice for animals that enter the shelter with terminal illnesses, but aren't ready for euthanasia? And barn cat programs? What about sanctuary for those that prove not rehabilitatable?
When I first reunited with PACC as a volunteer after a long hiatus, I resumed working closely with the cats. There was a terrified cat that even as a very experienced handler of felines I could not safely touch. I was both surprised, delighted (and somewhat concerned) that he had been evaluated as adoptable. He must have been handle-able at first, but likely from a lack of enrichment and contact he had regressed. We've all seen it. Named Drake, he had come in from a large impound known to us as The Norton Cats. We always refer to each collective group/colony by the street from which they came from. There's been The Chino Cats, The Herman Cats, etc. Sometimes I find myself asking aloud and very rhetorically, "How did I end up with 3 Chino Cats?!"—3 black males, each rescued by my non-profit and with their own story: Max, a kitten who wasn't recovering from telazol whose temperature plummeted to 80 degrees who I took home to give intensive care to and couldn't bear to bring back and Louie, https://www.youtube.com/watch?v=MGSG8-CKTvw "marked" for a neurological condition that makes him obsessive compulsive (which results in curious and somewhat challenging things) https://www.youtube.com/watch?v=NQba83QXZnA. The vet suspects inbreeding as the cause. The third, Chunk, was "marked" for severe Calicivirus. All are doing well and available, of course!
Back to beloved Drake, who needed intervening support. I provided him with a shelf to hide under and kept it draped with a towel for days, carefully sliding a plate of wet food to him. He stayed hidden. After a few days passed I folded the towel over, providing a smaller hiding spot and continuing to give him daily wet food and gentle coaxing https://www.youtube.com/watch?v=lAphzwDRxoQ. Within a few days I saw him ON TOP of the shelf and within a few days after that was able to gently stroke him while he concentrated on eating his wet food. Several days later I observed him eating dry food AT THE FRONT of the kennel and when I approached him he greeted me with chirps and trills and it was all over from there. That day I moved him to an enclosure where he could climb, stretch, play, lounge on a windowsill and even hide if he chose to. He continued to show more of his true self. In fact, he actually THRIVED, something animals rarely do in traditional/municipal shelters. He resumed grooming and filled out. He greeted visitors affectionately by weaving in and around their legs and rolling onto his back. It was difficult to even get a still picture of him https://www.youtube.com/watch?v=lAphzwDRxoQ.
One day this past summer, I saw that the Humane Society of Southern Arizona (HSSA) had pulled 8 cats from PACC. This is something that I myself reach out to them about when PACC is at at their fullest. It is a partnership I am thankful for, but when I saw that Drake was among the cats, my heart sank. I worried about him going back to being isolated by himself in a small, individual kennel, but assuaged myself thinking that as a long-timer he would get adopted quickly into a home which he so deserved. When I spoke with the PACC employee that had coordinated the pull with HSSA, he remarked how friendly Drake had become and how much his character had developed. He said that Drake was chosen for very these reasons. He continued by remarking that the addition of the enclosures (advocated for, installed and maintained by my non-profit) were a tremendous benefit to the cats. Later that week I called HSSA to see how my boy was doing and learned he had broken with a respiratory infection. I noted how any change can stress an immune system albeit was surprised as Drake had been at PACC for over 3 months and had never contracted a respiratory infection.
I called the next week to check on him hoping to visit and was told he had broken with ringworm. The following week I was on site at the HSSA actually bringing in cats for a client of my non-profit. Eager to visit him, I again inquired about Drake. When the staff member looked him up in the computer she informed me that he had been euthanized. Three months at PACC. Three weeks at HSSA. "Why?" I openly sobbed—for ringworm, a positive FIV test (he tested negative at PACC) and having "severe" dental issues.
Ringworm is treatable and can eventually run its course even without treatment. Cats with FIV can live full lives, even integrate with other cats if there is no fighting or mating and Drake, who left PACC as a husky fellow, had no issues eating there. The HSSA now treats ringworm, regularly performs dentals and handles stomatitis, and adopts out asymptomatic FIV and Felv positive cats. I don't understand and will never know just what happened with Drake. For me, I do know that he will forever be remembered as one of the highest and lowest points of my shelter experience and I do know that notes in the HSSA computer said he wasn't friendly. I was told he was suffering with a painful mouth, but I think his disposition there was the tipping point. Drake had one too many strikes. It goes without saying, I would have taken him in a heartbeat.
If all at the HSSA knew Drake's history, that he had come from a large colony of cats before PACC and was free to roam with a small group in an enclosure when there, if they had weighed that with the impact of change and isolation, the stress of being medicated–would he be alive? What if the vet or final decision makers knew that he was handpicked for being such a lover? What is my responsibility in this? How much can I push? I am not sharing this to blame or criticize. This is my story about an animal I will forever hold dear. Both PACC and the HSSA have made remarkable, even thrilling strides, but Drake's story must inform us. Every detail matters when it's life or death and we can and must do better both as individuals and collectively in partnership. This is what it will take to be not just a "No Kill" shelter, but a No Kill Community.
It is worth noting that some shelters hitting a 90% minimum may not include owner requested euthanasia in their calculations (where a savable animal may be destroyed without evaluation for foster, rescue or adoption), some may not include animals other than cats and dogs in their figures and we must acknowledge that even an overall 90% live release rate can be the average of a 98% save rate on one species and a 82% save rate on another.
As the No Kill movement continues to expand and evolve and more communities aim to reach higher, we'll need to ask ourselves again and again if we are truly doing everything, EVERY THING POSSIBLE to save the lives of the ones we still aren't. Is it easy? No, but life is precious.
Jessica Shuman is an educator, community activist and the Founder/Director of the "small but mighty" non-profit animal welfare organization Tucson CARES (Companion Animal Rescue Education and Support). She is on the board of No Kill Pima County and is a Pima Animal Care Center volunteer who served there from 2004-2006 as well. Jessica shares her home with both felines and canines. Feral and Community Cats sit in the most tender place of her heart.