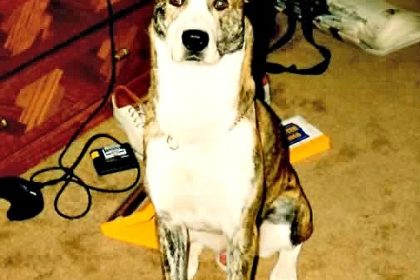 By Kim Silver
Published 2/6/15
It goes without saying that I am an advocate for dogs. I thrive on helping them be more understood, better connected with their humans, healthy and safe.   Unfortunately there are too many dogs and cats that have no one to advocate for them. According to the No Kill Advocacy Center (http://www.nokilladvocacycenter.org) there are roughly three million dogs and cats killed in U.S. shelters annually. Based on 2014 statistics there were approximately 3-4,000 dogs and cats destroyed at Pima Animal Care Center, Tucson's only open admission municipal shelter, that needed our advocacy efforts.
A couple years ago I wrote a blog titled "Glass Houses" in which I shared a very personal story about a life experience that planted the seed for my growth into an animal advocate. At the time I wrote and published the blog it was a week before I became intensely involved with No Kill Pima County. I am going to share that story with all of you today but with a different intent than when I told the story two years ago. Grab your popcorn.
When I was 19 years old and newly married my husband, a marine stationed at the Tustin California air base brought home a puppy. The puppy was living in the barracks on the marine base. My husband's marine friends were shuffling the puppy from room to room in order to pass inspections. So my husband brought the puppy home to his dog-loving wife and we made a home for the dog we called Loco. The name fit.
The puppy grew to be a dog. We managed the behavioral issues as they arose. I took him to puppy classes and spoiled him rotten. I think we did quite well with the dog. Unfortunately the marriage did not fare as well. When we split up I kept the dog. Of course I kept the dog.
The dog was rarely left alone when my husband and I were living together because we worked opposite shifts. When he moved out, the dog truly went loco. He became unruly from being left alone too many hours a day. He began eating the furniture, defecating in the apartment and the final straw was that he killed my mom's cat. I realized I could not care for this dog properly. I was working 3 part time jobs, going to school and living alone with this furniture-eating dog. I needed to do something for him and me.
I was home visiting my parents the weekend Loco killed my mom's cat. I called the local Humane Society and spoke to the director who happened to be a high school acquaintance's mother. She assured me if I brought him to her she would do right by him. She would do a home check for all potential adopters and he would find the right forever home. I didn't ask any questions. I trusted her and I gave her my dog. I cried nonstop every day after. My mother joked I cried more giving up that dog than my husband. She was absolutely right. I was devastated but felt I made the best decision for him.
One week later the shelter director called to share that Loco had found the perfect family. There was a mom, dad, boy and a girl who all fell in love with him. The shelter director said when she left the family home Loco was snuggled on the couch with the children without a care in the world that she was leaving him there. This made me so happy. Loco found his happy ending.
Three weeks later I received a phone call that Loco was found wandering the streets. He followed a 3rd grader home from school and his mother called me. The dog tags with my information were still on Loco's collar. My heart could not bear this news. I called the shelter director. She had no idea any of this happened. She assured me she would pick him up herself.
Upon investigating it was discovered the adopting family lied about their living situation and moved somewhere they could not have a dog. They left Loco with a family member who did not have a secure yard.   Loco went back to the shelter. I flipped out. What had I done to my dog? He must be so scared. He is lost and confused.
The shelter director told me the people who found him wanted to keep him but she didn't think they were the right fit for him. I cried and told her she needed to do right by Loco and I just could not bear to hear any more updates. I left him in her hands. I have no idea what happened to him. To this day I wish I knew his fate. To this day, I wish I could have made a different choice. What I once thought was the best decision for my dog soon became one of the poorest decisions of my life.
It has been 21 years since I surrendered my dog to an animal shelter. It's been 21 years of trying to forgive myself for giving up on my dog. 21 years later I still cry for him. I vowed to NEVER make this kind of mistake ever again. I committed myself to my future dogs before they ever entered my life. It was a commitment to myself to be a better pet owner, be responsible and follow through with my commitments to animals that will rely on me for EVERTYTHING. I wanted my future animals to trust me to take care of them. I failed Loco. I could not do that again.
I am sharing this story with you for one reason, compassion. How many of us have done something in our lives we are not proud of? Made mistakes we learned great life lessons from? How many of us have criticized others for their choices because they are choices we would never make? How many of us throw stones from our glass houses? I am going to be bold and guess every single person reading this has regrets in life. My regrets are different than your regrets but it is regret nonetheless.
It's important to have compassion for others. Do you know most owners surrendering their pet at Pima Animal Care Center think they are doing something good for their pet? "Fido will get adopted quick, he is so sweet and loving, he just doesn't like other dogs" is something volunteers hear at the Help Desk often. Volunteers then share with Fido's mom why her dog's aversion to other canines dramatically decreases his likelihood of faring well in the shelter and leaving alive into that fantasy dog free adoptive home. Fido's mom may or may not decide to surrender Fido to PACC after listening to the volunteer share reality with her. Regardless of her decision it's important for that volunteer to understand that Fido's mom either doesn't know any different or she feels she has no other choice and will not accept the reality of her dog's potential future, at least not in that moment. Showing her and her pet compassion during a stressful time is the best and only choice for that volunteer.
We can never know what someone else's life experience to be. I always try to keep that in mind and not pass judgments. No one surrendering their animal to a shelter is obligated to share anything about their life with volunteers or shelter staff, but when they do it can be powerful. One day volunteering at the Help Desk I asked a woman why she was surrendering her dog to the shelter. Her eyes welled up with tears and she looked at me for a solid minute trying desperately not to cry. She finally shared that her husband is abusive and takes out his anger on the dog to get back at her. In her case, the dog was going to a safer place.
I cringe when I hear shelter volunteers walk through intake at PACC and refer to the "crowd of people waiting to dump their dogs and cats" waiting outside. What really gets me upset is the blaming of Fido's mom for the fact that Fido might die in the shelter because he doesn't get along with other dogs. Fido's mom is not the reason Fido may die; it's a shelter policy that dictates dog aggressive dogs are sometimes put down.
Nathan Winograd founder of the No Kill Advocacy center says "A before and after snapshot of the nearly 250 communities which now have save rates between 90% and 99% show that their shelters achieved that rate of lifesaving by changing the way they operated. Contrary to what conventional wisdom has prescribed for decades, they did not change the public. That's because animals are not and have never been killed in shelters because of the choices made by the public. Instead, they are being killed because of the choices made by the people overseeing our shelters."
I am not saying there are not bad people doing bad things to animals, there certainly are. But not everyone who surrenders a pet to shelter is a bad person. I am not a bad person but I imagine 21 years ago people judged me. I imagine today some of you reading my story may be judging me.
I hope that sharing my story helps at least one person have a better understanding of how life experiences shape us and how your compassion for someone else may plant a seed that grows and is shared with others. Please take animal ownership seriously. You are truly saving a life when you bring that animal into your home. And show a little compassion toward other pet owners. It can go a long way in making a difference not only for the other person but you too.
LOCO
Kim Silver serves on the board of No Kill Pima County, is the owner of Kim's Canine College, a volunteer at multiple animal shelters and organizes a dog food drive in Pima County solely for the rescue Angels for Animals Tucson.